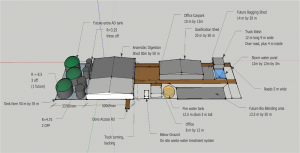 A bioenergy from waste facility will begin development on the DON Smallgoods site in Castlemaine.
This is part of Mount Alexander Sustainability Group's (MASG) target for reaching Zero Net Emissions (ZNET) in the shire by 2030.
The planned project represents the first community led integrated waste to energy initiative in Victoria.
Bioenergy waste plants divert organic waste from landfill, capturing potentially harmful emissions (if remaining in landfill) to generate zero waste and clean energy, while reducing reliance on traditional fossil fuel derived energy sources.
"This exciting initiative is not only an important step as we strive to meet the shire's zero waste targets, but it will also provide local job opportunities and help to underpin the future viability of DON Smallgoods, the Loddon Mallee region's largest employer," Chair of the Bioenergy Subcommittee, Mount Alexander Sustainability Group, Michael Lewin says.
More specifically, the plant will provide secure local employment opportunities with approximately 22-30 jobs to be created.
"To date, the planned facility has received backing from the Victorian State Government and Federal Government, as well as Mt Alexander Shire Council, Coliban Water, DON Smallgoods and the McKinnon Family Foundation. In total, required funding for the planned facility is in the region of $20-25 million."
DON Smallgoods backing
Managing Director at DON Smallgoods, Will Ursell adds: "Mt Alexander Sustainability Group's planned bioenergy from waste facility will be fantastic for the local economy and here at DON Smallgoods, we are proud to be an active collaborator in helping to achieve the shire's ZNET goal of achieving Zero Net Waste by 2030.
"The plant will significantly reduce landfill waste from our Castlemine facility, leading to a 20% emissions reduction alone. As part of this initiative together with our solar energy investments and wider Energy Supply Strategy endeavours at Castlemine, we anticipate a total 40% reduction in DON's carbon footprint by 2025."
Other businesses of the region are invited to collaborate with MASG on ways they can funnel their waste streams through a more sustainable model via the plant.
For more information, please visit bioenergy.net.au.