New research from financial comparison site Mozo.com.au reveals that Black Friday will overtake Boxing Day as Australia's biggest retail event, with savvy shoppers looking to enjoy a cheaper Christmas.
The '2022 Black Friday Report' found that Aussies are planning to spend $10.2 billion over the sale period, an average of $820 each compared to $8.9 billion on Boxing Day sales, $711 each.
"Boxing Day used to be the most popular sale event of the year, with retailers offering the biggest deals but now Black Friday is set to take the top spot, with shoppers looking to snag heavily discounted gifts before Christmas."
While Black Friday has become the most popular sale event, shoppers are planning on spending 25% less this year compared to 2021, where they planned to spend $1100 each, according to Mozo's research.
"Many households will be working with tighter budgets, so they are going to be more conscious about where they spend their money. Black Friday sales will be a key strategy to unlocking a festive Christmas without the hefty price tag," says Mozo Personal Finance Expert Claire Frawley.
Mozo's research shows that almost half (48%) of Aussies will be looking to cash in on Black Friday deals when shopping for Christmas presents. The most in-demand items are clothes, laptops/computers, shoes, smartphones and vacuum cleaners.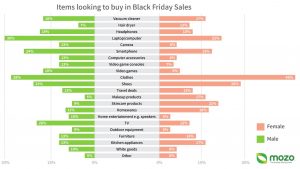 "Making sales budgets go the distance could come down to comparing prices between retailers and hunting down the best discounts. To avoid missing out, shoppers should start making a list of what they want to buy and prep now before sales kick in," Ms Frawley said.
Sales season shopping tips
Make a budget and plan out your purchases to avoid overspending
Start researching the regular price of the items you want to buy before sales kick in and bookmark a buyer guide, as these pages often have all the deals aggregated in one place and are updated hourly
Make a priority list and shop in this order, so you don't miss out on the items most important to you
Install discount and cashback extensions like Honey and Cashrewards to your browser
When shopping online, make sure to compare prices between retailers, and if shopping instore don't be afraid to haggle or ask for a price match
Remember to factor in additional shipping time if shopping online, with delays expected again during the peak retail trading season
If buying from overseas retailers, be wary of foreign exchange fees and rates, as well as hefty shipping costs.
For more information, visit '2022 Black Friday Report'.