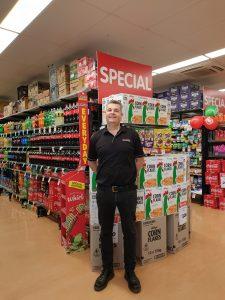 SPAR Australia expands with the opening of Nick Holman's second store in Blackbutt, located in the South Burnett Region of Queensland.
As an independent retailer, Mr Holman will bring the same passion for retail to the new store, as he has in his Jandowae store, located 135km west of the new site.
"We value the SPAR philosophy and support we have received," he said. "SPAR has been such a wonderful organisation to work with and we feel part of a family."
The new family-owned store is being run with the help of two duty managers, Ebony and Sharon.
SPAR Blackbutt is open seven days a week and offers a range of fresh produce, a full-service deli, quality meat which is delivered fresh daily, a great grocery range and strong dairy, frozen and general merchandise ranges.
Mr Holman and his wife Trinette have supported the local community – being one of the sponsors of the annual Blackbutt Avocado Festival.
"We were thrilled to win SPAR Ambassador of the Year in 2018 and SPAR store of the Year for Jandowae in 2019, because we are proud to operate SPAR Supermarkets," Mr Holman said.