Bosisto's laundry range has now been dermatologically tested and proven to be kind to sensitive skin. The popular natural eucalyptus-oil based products – including Bosisto's Laundry Powder, Laundry Liquid, Pre-wash Stain Remover and Wool Wash – underwent clinical testing at an independent laboratory, with the results showing they caused no irritation to sensitive skin.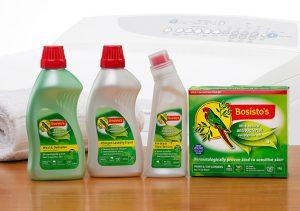 Highlighting the results, Bosisto's has completed a packaging makeover with the 'kind to sensitive skin' claim clearly visible.
Bosisto's recently enjoyed favourable media attention on Channel 9's A Current Affair, which featured the brand in an exposé on the 'hidden dangers of laundry powders'.
"Bosisto's Laundry Powder performed favourably against big name brands in an on-screen test, dissolving completely to prove there were no hidden fillers," Bosisto's Brand Manager Sasha Kliger said.
The timing couldn't be better for the brand, which is featuring in national Brand Power TV commercials this year.
"Bosisto's Laundry Powder is palm oil free, and 100 per cent soluble with no cheap bulking agents," Ms Kliger said. "The entire Bosisto's laundry range is garden- and earth-friendly, using only natural eucalyptus oil and no synthetic fragrances, bleaches or dyes."
RRP: Laundry Powder 1kg, $9.65, Allergen Laundry Liquid, $6.99, Wool Wash, $7.49, Pre-Wash, $4.99.
Website: www.fgb.com.au.
Stockist inquiries: 1800 655 841.