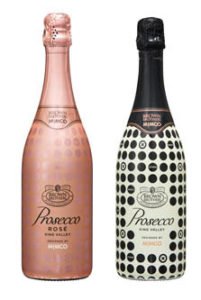 Australia's leading family-owned wine company, Brown Brothers has collaborated with iconic Australian accessories brand MIMCO on two limited edition Proseccos.

Sharing a commitment to unwavering style, local provenance, and an imaginative spirit, the partnership sees the release of two limited edition Brown Brothers Prosecco bottles (Prosecco and Prosecco Rosé), featuring the signature MIMCO 'Supernatural' motif.
Drawing on the accessory brand's signature collection, the limited edition bottles feature hues of matte black, alabaster and rose gold.
Brown Brothers Public Relations Manager and fourth generation Brown Brothers family member Caroline Brown expressed the brand's desire to celebrate the connection between fashion and lifestyle through collaborating with a respected leader in Australian fashion.
"We are extremely excited about the partnership with MIMCO, one of Australia's most iconic fashion brands," she said.
"For the spring/summer party season we are thrilled to present our beautiful limited edition Prosecco bottles to our customers.
"Prosecco is emerging to be one of the most popular sparkling wines and by partnering with MIMCO it's now the perfect accessory for the party season."
Hailing from Brown Brothers' Banksdale Vineyard in the King Valley of Victoria, Australia's premium region for growing Prosecco, the Brown Brothers Prosecco collection consists of two varietals, each with an RRP of $17.99.
Brown Brothers Prosecco bursts with lively notes of apple and citrus, delivering a crisp and gentle sparkling. Brown Brothers Prosecco Rosé, which is blush in colour, takes the same citrus note with a subtle hint of berry, offering a refreshing and light finish.