Bunnings has officially launched its expanded range of over 700 new pet products including toys, bedding, grooming tools, carriers, training accessories, smart technology, treatments (flea/worming), and the introduction of pet food; taking the entire range to almost 1000 products to offer customers a one-stop-shop when it comes to pet needs in the home.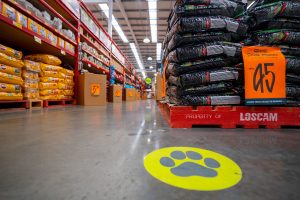 Partnering with some of Australia's leading pet brands including PEDIGREE, WHISKAS, SCHMACKOS and SUPERCOAT; Australians can now shop for their pets with the same confidence in value as they do for their home and garden at Bunnings, backed by the lowest price guarantee.
With over 60%[1] of Australian households home to a pet and the pet population outnumbering people by over two million[2], pets are considered an important family member with almost two in three pet owners agreeing their pet is the most pampered member of the family.
New Bunnings' research[3] has revealed pet owners are now designing their homes to cater to their pets. Almost half (48%) admit to having made or planning to make changes in the home to accommodate their fur baby, including installing a pet door (23%), adding a doghouse (16%) and changing/removing existing furniture (13%).
Bunnings Managing Director Mike Schneider says the launch was exciting for the business and customers, with store teams eagerly reworking the store's layout to showcase the new expanded pet range.
"Customers have loved shopping our selected pets offer for several years now, so we are thrilled to unveil an even bigger and better range, giving customers the same confidence in value and more choice when shopping for their pets as they do for their home and garden," Mr Schneider said.
"It's also been great working with Australia's leading and locally based pet suppliers to range some of the most trusted pet brands including PEDIGREE, OPTIMUM, SUPERCOAT and FANCY FEAST as well as exclusive brands in Trusty, Bugalugs, Happy Tails and Baxter & Bone.
"Our store teams have been busy reworking our store layout to create a one-stop pets destination, as well as undergoing training to deliver expert advice, and they are looking forward to helping customers shop the new pets range," he said.
This expansion also marks the beginning of a new relationship with some of Australia's leading and most trusted pet brands.
Mars Petcare Australia General Manager Craig Sargeant says the business was pleased to be part of Bunnings' foray into the pet food category. "We love that Australians have even more convenient places to buy our well-loved pet food brands like PEDIGREE, OPTIMUM, and MY DOG than ever before.
"Almost all our pet food is made locally at our Bathurst or Wodonga sites, and we source locally where possible so partnering with an iconic Aussie retailer fits well with our 50-year history of manufacturing here in Australia," Mr Sargeant said.
Pets have taken on a whole new role in our lives and in our homes, and with the majority of Australian pet owners (81%) claiming companionship as the most common reason for pet ownership and allowing free access to all rooms in the home for over 60% of cats and dogs, the relationship we have with our pets is a special one and something to be celebrated.
For more information on Bunnings' Pet range, visit the store or shop the range online at bunnings.com.au/campaign/exciting-new-products.
[1] 2021 Pets Research conducted by Fiftyfive5, n=1600 Australian pet owners aged 18+ (nationally representative).
[2] How many pets are there in Australia? – RSPCA Knowledgebase – 28.7 million pets in Aus, ; Aus pop approx. 25.9 million at June 30 2022.
[3] Bunnings Neighbourhood online community panel – March 2023, n=591.