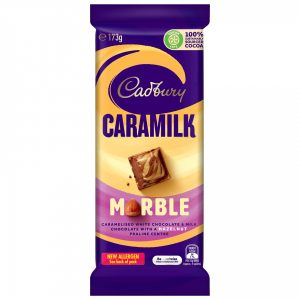 If you're a fan of Cadbury Caramilk, and a fan of Cadbury Dairy Milk Marble, you best hold onto your hats as the two flavours are joining forces!
The new Cadbury Caramilk Marble block will blend milk chocolate and Cadbury Caramilk caramelised white chocolate on the outside and is filled with Hazelnut Praline of Cadbury Dairy Milk Marble.
"Cadbury Caramilk and Cadbury Dairy Milk Marble are two of our cult favourites, so combining them both to create a new taste experience is sure to excite chocolate lovers across the country," Senior Marketing Manager for Cadbury Dairy Milk, Katrina Watson says.
"Our chocolate makers have been so excited to work on combining two of our most iconic flavours. We can't wait to see how Cadbury fans respond when it lands on shelves next month."
Cadbury Caramilk Marble will be available in leading Australian supermarkets from 12 April for an RRP of $5.00.
For more information, visit Cadbury.com.au.