The launch of Cadbury Coco marks an evolution for the Cadbury masterbrand as it expands into the premium space, building on from the success of its traditional milk chocolate products.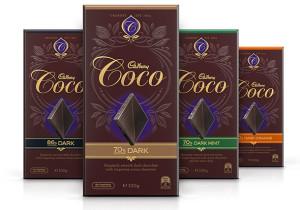 Cadbury Coco offers a range of thin, smooth and refined dark chocolate claimed to deliver a lingering cocoa character and is targeted at those who appreciate chocolate as one of life's little luxuries.
To support Cadbury Coco, Cadbury is launching a multi-million dollar marketing campaign to build brand awareness and trial, led by a TVC showcasing the premium credentials of the range. A three-month sampling program across the country is expected to reach a further 1.5 million people.
Cadbury has formed strategic partnerships with Virgin Australia and Opera Australia designed to attract those looking for more luxury from their chocolate. Sampling activity will take place across Virgin Business Lounges and at performances of Anything Goes at the Sydney Opera House and Melbourne Arts Centre in the coming months.
The launch campaign will also include outdoor activity, cinema advertising, social media, an online video and in-store activity.
"Cadbury Coco is a genuinely new offering for the category from Cadbury and we know it will capture the imagination of Australians who enjoy the finer things in life," Senior Brand Manager for Cadbury Coco at Mondelēz International Kate Watson said.
Cadbury Coco is available in blocks and gifting packages in a variety of flavours, including Dark Orange and Dark Mint.