Cadbury has released another exciting block for Aussie chocolate lovers, Cadbury Dairy Milk Breakaway.
Available in two flavours to cater for the tastes of all Aussie chocolate fans – smooth and creamy Cadbury Dairy Milk milk chocolate and rich Cadbury Old Gold dark chocolate.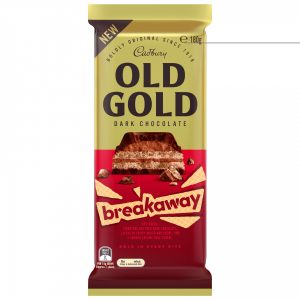 Each chunky 15g piece combines Australia's favourite chocolate with layers of wafer, creme, and a creamy choc centre to create the perfect indulgent chocolatey wafer experience.
Cadbury Senior Marketing Director Paul Chatfield says, "We know how much Australians love the generous and indulgent nature of Cadbury chocolate, and we're excited that the addition of light and crispy wafer will make Cadbury Breakaway a delicious chocolate wafer combination."
"The amazing chocolate makers at our Hobart factory have been working for more than 12 months to get the recipe and combination of Cadbury chocolate and wafer just right."
To celebrate its launch, 500 blocks of Cadbury Breakaway were up for grabs on cadbury.com.au/breakawaygiveaway, giving chocolate lovers the first taste of Cadbury Dairy Milk Breakaway ahead of its arrival in stores.
Cadbury Breakaway will be available on shelves in early July.