Media Release
CADBURY Roses partners with Australian artist to launch a limited-edition gift box in time for Mother's Day
In time for Mother's Day, CADBURY Roses has collaborated with renowned local illustrator, Sarah Hankinson, to design a limited-edition gift box, encouraging Australians to say 'thank you' during these challenging times.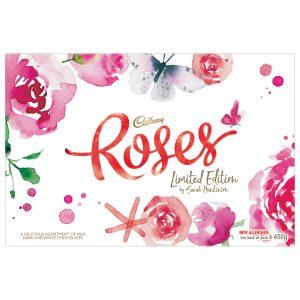 Kathy De Lullo, Senior Marketing Manager for Cadbury says, "Mother's Day is going to be very different this year. It comes as a reminder of the importance of the bond we have with our Mother's at a time when family has never been so important. We hope this limited-edition gift box of CADBURY Roses inspires Australians to 'say thank you' to the important women in their lives at a time when we're physically distanced from one another."
Sarah Hankinson, an Australian artist and a mum of two young boys, has worked with some of the world's most prestigious brands. Now, Sarah's signature style can be seen on the iconic CADBURY Roses gift box, one of Australia's most loved ways to say thank you since it was launched in Australia over 70 years ago.
To design the limited-edition gift box, Sarah has taken inspiration from the iconic CADBURY Roses 'Rose' insignia and applied a modern twist through meticulous line work paired with soft splashes of water colours across the classic CADBURY Roses gift box.
"I was so excited to be asked to collaborate with CADBURY on their Roses Gift Box. For as long as I can remember, sharing a pack of CADBURY Roses with my family was such a treat. Rummaging through the box and choosing your favourite flavour – opening the shiny wrappers. It was a moment to cherish and bring everyone together. To this day, I still think the gift of a box of Roses is a special act of love," Sarah Hankinson says.
Available in a delicious variety of flavours that mum will love including Classic Milk, Hazelnut Creme Crisp, Vanilla Nougat, White Raspberry, Caramel Deluxe, Hazelnut Swirl, Turkish Delight, Classic Caramel, Peppermint Crème Crunch and Dark Mocha Nougat flavours.
RRP at $15.50, the limited-edition 450g Gift Box is available in all leading supermarkets & department stores across Australia.
For more information please visit: Cadbury.com.au
Source: id collective.