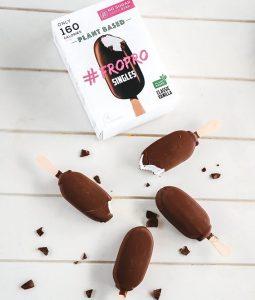 FroPro's new range of 'Singles' ice cream is claimed to be the first lower cal, sugar-free chocolate coated ice cream stick in Australia.
The range includes three new flavours, with the Double Chocolate and Salted Caramel being 150 calories, while the Plant-Based Classic Vanilla Single sits at 160 calories.
"Our vision has always been, 'Treat Yourself, Better'. Ice cream is for indulgence and enjoyment and we don't want anyone to sacrifice that," said owner, ice-cream connoisseur and former professional rugby star Ed O'Donoghue.
"FroPro Singles will change the way you think about 'healthy' ice cream, they are the real deal."
Tackling the ice cream industry and its preconceived notions around the dessert is a task that the team at FroPro took head-on. They now have a range of better-for-you dairy and dairy-free tubs, plus the new chocolate-coated singles.
"Essentially the Singles taste and feel like the choc coated ice creams you know and love, yet they contain substantially less calories and way less sugar than the traditional market leaders. Just try one and you'll be blown away," said Mr O'Donoghue.