Following a year of R&D, next month Capi will launch a new range of drinks promising to push the boundaries of the typical mixer.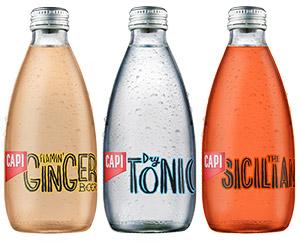 The Capi CF Selection (CF standing for craft flavours) will launch into bars and liquor retailers, including BWS and Dan Murphy's, and will be seasonal and made in small batch quantities.
The Craft Flavour Selection will initially consist of Flamin' Ginger Beer, Dry Tonic and The Sicilian, with the range tried and tested by some of the best bartenders in the country.
The Flamin' Ginger Beer offers a spicy ginger beer, blended with double the ginger, chilli and capsicum extracts, while the Dry Tonic has a citric subtlety and a crisp dry finish. The Sicilian is bold and punchy, creating a sophisticated mixer with a bitter blood orange base, blended with citrus oils and cinnamon bark that produces an underlying sweetness.