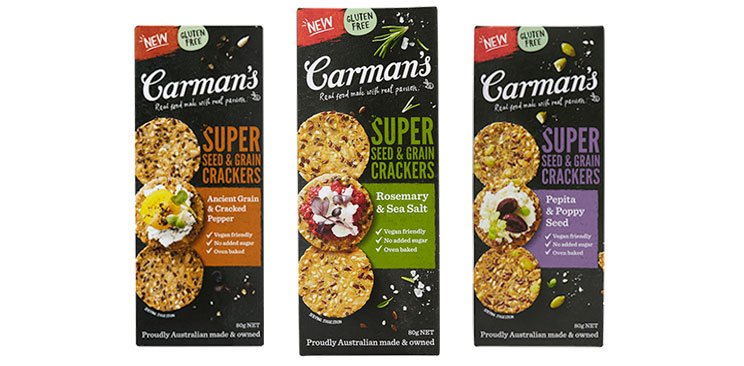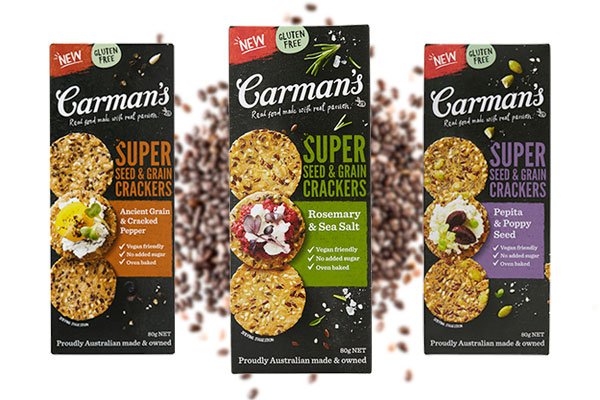 Carman's says their snacks are made with simple, clean ingredients, have no added sugar, and are available in three moreish varieties – perfect on their own or enjoyed with fresh and simple toppings.
Strong demand for gluten-free, dairy-free and, increasingly, vegan-friendly options has seen plenty of products hit the shelves. However, with most gluten-free snacks (particularly crackers) made from rice and tapioca flour, the selection can be less than inspiring.
Branching out into savoury for the first time, Carman's has delivered the new Super Seed & Grain Crackers – a unique range of crackers with a recipe based on fibre-rich seeds and grains, and no added sugar. Specially crafted to contain over 75 per cent seeds and grains, plus the unique addition of quinoa flour, the crackers are said to be a snack like no other.
These moreish new bites are available in three varieties – Ancient Grain & Black Pepper, a distinctive blend of quinoa, amaranth, millet, chia and linseed, naturally flavoured with black pepper; Rosemary & Sea Salt, a classic aromatic cracker with a touch of salt; and Pepita & Poppy Seed, featuring whole, crunchy pepitas and fibre-rich poppy seeds.
Carman's founder Carolyn Creswell said: "Super Seed & Grain Crackers were truly a labour of love for the Carman's team. We worked for almost two years to create such an exceptional recipe – one that satisfies what consumers were calling out for.
"I'm proud to say we did it! Carman's new Super Seed & Grain Crackers are gluten free, dairy free, vegan friendly and have no added sugar. Plus, they're proudly Australian made. I'm confident consumers will love the crackers as much as we've loved crafting them – there's truly nothing else like them on the market!"
RRP: $3.90 per pack (80g ).