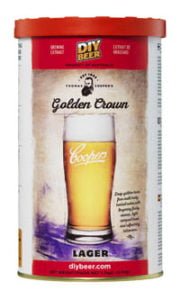 Coopers Brewery has released a new DIY Brewing extract ahead of Christmas, reviving the brewery's earliest successful push into lagers.
Golden Crown Lager has been released as part of the Thomas Cooper's Selection range of extracts and celebrates Gold Crown Lager, the first lager made by Coopers in 1968.
When it was introduced, Gold Crown was a delicate, less sweet beer of the Dortmunder style and created a whole new market for Coopers.
Developed by Maxwell Cooper, Gold Crown achieved strong success. Eventually superseded by other Coopers lager brands in 1982, it remains an important milestone in Coopers' brewing history.
Coopers Marketing Manager Brewing Products Scott Harris says the new Golden Crown Lager extract makes a classic lager with deep golden hues and a firm malty body.
"It's refreshingly bitter with a lingering fruity aroma, crowned by a tight compact head," he said. "It's recommended to be brewed with Coopers Light Dry Malt and Coopers carbonation drops."
Coopers has a total of 20 DIY Brewing Extracts as well as a range of brewing accessories to assist DIY brewers.