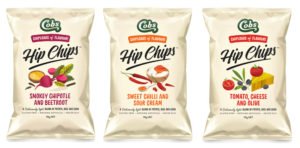 Natural popcorn brand Cobs Popcorn has put a spin on the classic potato chip with a new range made from potato, rice and corn.
Produced using a "unique" heat-expansion process, Cobs has added sunflower oil and premium seasonings made from natural ingredients. The result, it claims, is a "tasty, top-quality chip that provides a satisfying, high-crunch snacking experience".
Cobs co-founder Ravit Walys says many traditional commercial chips are fried in oil, which masks the flavour of the chip and can create an oily texture.
"Cobs Hip Chips use high-oleic sunflower oil and heat expansion to create not only a more delicious, but also healthier chip than most current commercial offerings," she said.
The range comprises Smokey Chipotle and Beetroot, Tomato, Cheese and Olive, and Sweet Chilli and Sour Cream varieties in 90g packs (RRP $3.45).