City Football Group (CFG) has announced a global partnership between coconut brand Coco Joy and three of its clubs.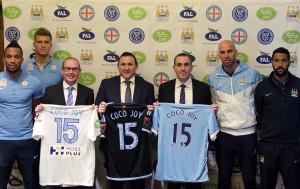 The partnership will extend Coco Joy's partnership with 2015 A-League semi-finalists Melbourne City FC, which has worked with the brand since 2014, to CFG sister clubs Manchester City FC and New York City FC.
The announcement came as Manchester City played two games in Melbourne as part of their pre-season tour and follows the first game between two CFG clubs as Melbourne City took on Manchester City on the Gold Coast on Saturday evening.
The agreement also extends the coconut brand's relationship with Manchester City FC, with Coco Joy branding visible on the team's shirtsleeves during the club's visit to Australia as part of a tour partnership.
In addition to a range of activations in Melbourne, Coco Joy will also boost its presence in New York and Manchester, engaging fans with giveaways and 'money-can't-buy' experiences.
"We've had an excellent relationship with Coco Joy in Melbourne and it's a fantastic success story for that partnership that we're now going to be working together at Manchester City and New York City FC as well," said Omar Berrada, Commercial Director of City Football Marketing, which brokers CFG's commercial partnerships.
FAL Healthy Beverages CEO Tim Xenos said: "Coco Joy is a coconut brand dedicated to promoting a healthy lifestyle to consumers globally and we see our partnership with the three clubs as a fantastic platform to work together to help collectively promote a healthy lifestyle, while they can experience the quality, choice and enjoyment in what Coco Joy has to offer."
The partnership was announced in Melbourne as part of Manchester City's pre-season tour of Australia, with Manchester City and Melbourne City players attending and a video message relayed from New York City FC.