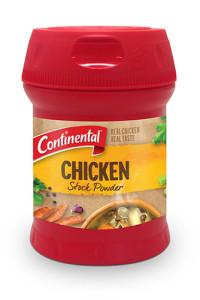 Continental has releases its new range of stock powders, which are based on new recipes and have new packaging.
The new line of stock powders comprise Chicken Stock, Chicken Salt Reduced Stock, Beef Stock, and Beef Salt Reduced Stock.
The range is made with only natural flavours and, in the case of the chicken stocks, colours.
"We have developed completely new recipes that have a richer and more authentic taste," Continental Head of Research and Development Alberto Peixeiro said. "The new recipes also include a reduction in salt which aligns with Unilever's Sustainable Living Plan to improve the health and wellbeing of more than a billion people worldwide."
The range comes in a new packaging format that allows consumers to sprinkle or scoop the stock powder straight from the pack, along with an induction seal which improves the freshness of the product.
"We felt it was time for the stock category to experience a bit of a shake up and we see this new range as the perfect way to add flavour to home cooking in a simple way," Mr Peixeiro said.
The Continental stock range is available from Coles, Woolworths and independent retailers nationally.
[vc_gallery type="image_grid" images="6616,6615,6614,6613″]