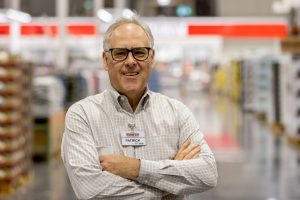 Costco is expanding with the opening of its Coomera warehouse on the Gold Coast, Queensland. The warehouse is scheduled to open on at 8am on 22 June, 2023.
Costco held an exclusive media-only preview opportunity to film inside the stocked warehouse on 20 June, along with interviews with Costco Australia & New Zealand Managing Director Patrick Noone ahead of the warehouse opening.
Costco Gold Coast is the third Queensland location and number 854 worldwide.
The Gold Coast warehouse is an overall $66M investment for Costco in the Gold Coast community, creating 350 full time jobs during the construction stage.
Costco Gold Coast will offer high quality products at competitive prices across a wide range of categories like apparel, appliances, automotive, bakery, books and media, deli and catering, domestics and homewares, electronics and white goods, garden, groceries, designer handbags and luggage, health and beauty, jewellery and watches, fresh meat and seafood, office, produce, seasonal decorations, snacks and confectionery, sporting goods, sundries, toys and tickets.
The warehouse includes a Tyre Centre, Optical Centre, Hearing Aid Centre and Food Court. It has 14,346 sq/m of floor area, 53,661 sq/m of total site area, and 760 car parking spaces including 18 accessible spaces.
Costco Gold Coast also features a Fuel Station with ULP E10 94, premium 98 and diesel fuel at 28 filling positions and two ultra-high flow pumps on offer. Members need a Costco membership card to shop and to purchase fuel at Costco's self-serve stations.
Costco is offering opening week specials on everyday essentials. Opening "wow" items, unique/high-end items, will be available exclusively at the warehouse opening for members to purchase.
All Costco Australia members also have access to online shopping at costco.com.au.
Costco Gold Coast Warehouse is located at 47 Creek Road, Coomera 4209.
An annual Costco membership costs $65 for businesses, $65 for individuals, and $130 for Executive Membership. To sign up for a Costco membership, visit costco.com.au/membership.
Retail World features an exclusive interview with Costco Australia & New Zealand Managing Director Patrick Noone in the upcoming June issue.