The monthly Consumer Price Index (CPI) indicator rose 5.2% in the 12 months to August 2023, according to the latest data from the Australian Bureau of Statistics (ABS).
ABS Head of Prices Statistics Michelle Marquardt says: "This month's annual increase of 5.2% is up from 4.9% in July. Annual inflation remains below the peak of 8.4% in December 2022."
The most significant contributors to the August annual increase were housing (+6.6%), transport (+7.4%), food and non-alcoholic beverages (+4.4%) and insurance and financial services (+8.8%).
"CPI inflation is often impacted by items with volatile price changes like automotive fuel, fruit and vegetables, and holiday travel. It can be helpful to exclude these items from the headline CPI to provide a view of underlying inflation. When excluding these volatile items from the monthly CPI indicator, the annual rise of 5.5% in August is lower than the annual rise of 5.8% in July," Ms Marquardt said.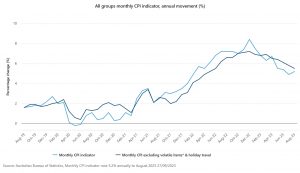 The annual increase for housing of 6.6% was lower than the 7.3% increase in July. New dwelling prices rose 4.8%, which is the lowest annual rise since August 2021, as building material price increases continued to ease reflecting improved supply conditions. Rent prices rose 7.8% in the 12 months to August, up from 7.6% in July, as the rental market remains tight.
Electricity prices rose 12.7% and gas prices rose 12.9% in the 12 months to August reflecting increases in wholesale prices. Rebates from the Energy Bill Relief Fund introduced in most cities from July reduced the impact of electricity price increases for eligible households.
Automotive fuel prices rose 13.9% compared to 12 months ago. In monthly terms, Automotive fuel prices rose 9.1% in August.
"The annual movement for Automotive fuel remains volatile, partly reflecting price changes from 12 months ago, when Automotive fuel prices fell 11.5% in August 2022. Price rises this month, combined with base effects, have seen the annual movement for Automotive fuel increase 13.9% in August, compared to a fall of 7.6% in July," Ms Marquardt said.
Food and non-alcoholic beverages rose 4.4% in the 12 months to August, down from the 5.6% annual increase in July and is the lowest annual increase since February 2022.
"Food inflation continues to ease although differences remain across the food categories. Prices for bread and cereal products and dairy products have risen over 10% in the past 12 months, while fruit and vegetable prices are 8.3% lower compared to 12 months ago due to improved growing conditions," Ms Marquardt said.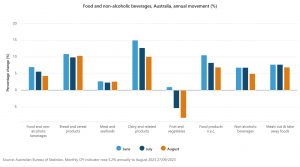 CreditorWatch Chief Economist Anneke Thompson says while a higher figure is not welcome news for borrowers, the figure is heavily impacted by the higher cost of fuel this month. Excluding volatile items like fuel, holiday travel and fruit and vegetable items, monthly CPI increased 5.5%, down from 5.8% the month prior.
"Residential rents, fuel and insurance pricing continue to gain momentum. For the business community, rising insurance will have a big impact, and add to already significant cost pressures many businesses are facing. The construction sector, in particular, is very reliant on insurance, and while price growth momentum in building materials is slowing, rising insurance premiums will be the next headache the industry will face," Ms Thompson said.
"This is on top of rising external administrations. CreditorWatch's Business Risk results for August show that external administrations for the construction industry are now above pre-Covid levels.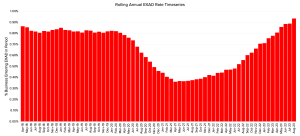 "The cafe and restaurant sector currently experiences the highest rate of insolvencies according to our Business Risk Index data, and the news that fruit and vegetable prices continue to fall will be welcome relief," she said.