The team who produces BAR NONE and BRITE, has announced the launch of its vegan and cruelty-free venture, Daily Shield.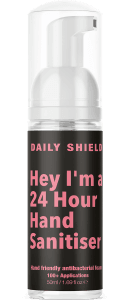 It's an innovative, antibacterial hand sanitiser that keeps the user protected for up to 24 hours of wear.
Daily Shield is fragranced, with notes of buttery vanilla and lemon cake.
The FDA have approved three active ingredients, ethyl alcohol, isopropyl alcohol and benzalkonium chloride (BZK).
The non-drying, alcohol-free formula is made from food safe ingredients and contains a compound that keeps the antibacterial BZK on the skin for longer, and won't rinse off with regular hand washing.
Daily Shield kills 99.9% of germs and bacteria, inhibits the risk of future growth, and has 100 applications in each bottle.
The hand sanitiser is now available for purchase online or from Woolworths. The RRP is $12 for 50ml, or $45 for 50ml (x 4 packs).
Head to dailyshield.me/ for more info.