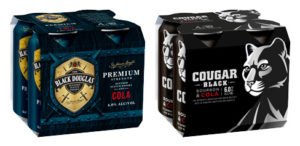 The spirits and ready-to-drink division of Carlton & United Breweries has expanded its offering for the first time in several years with six new products about to hit the shelves.
CUB GM of Spirits & RTD Dean Robinson says the range extensions support recent market-share growth of the existing Cougar and Black Douglas RTD ranges and also taps into consumer insights.
"RTDs are occasion driven, with more than half bought when people want to kick back and enjoy time with mates or are at social events with friends," he said.
With premium RTDs the fastest growing segment of the RTD category in Australia, CUB says it has created Cougar Black from authentic American sour-mash whiskey aged in new oak barrels to create a smooth and distinctive bourbon.
"Black Douglas Premium Strength is made from one of Australia's best-selling favourite scotch whiskies, aged for at least three years in charred oak barrels," Mr Robinson said. "It proudly bears the name of one of Scotland's mightiest warriors, Sir James Douglas."
CUB says that with double-digit growth in the 10-pack format, which now represents more than 20 per cent of all RTD sales in Australia, the company has released the premium range in both 10- and four-packs.
The new premium products are Cougar Black 6 per cent Bourbon & Cola and Black Douglas Premium Strength 6 per cent Scotch Whisky & Cola. Both are available in 6x4x375ml can slabs and 3x10x375ml pack formats
CUB has also released these products in mid-strength options: Cougar Mid Strength 3.5 per cent Bourbon & Cola in the 4x6x375ml can-pack format and Black Douglas 3.5 per cent Scotch Whisky & Cola in the 4x6x375ml can-pack format.