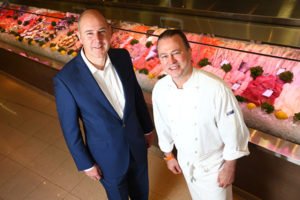 The department store retailer has announced a long-term partnership with renowned Australian chef Neil Perry to help refresh its food business.
David Jones says Mr Perry will review, advise and assist with implementation across David Jones' existing food hall offerings, inclusive of dine-in food bars and ready-to-go options, to deliver a more contemporary and sensory food experience with a focus on taste, quality, freshness and provenance.
He will consult throughout the development process. This will include venue composition and format, menu development and creative direction, produce and supplier sourcing, and selection of equipment and packaging design. Mr Perry will also play a key role in the identification and specialist training of food services professionals.
"Neil shares our vision for the creation of an exceptional in-store culinary and fresh foods experience," David Jones CEO John Dixon said. "This will be centred on the best quality, freshness and taste and will transform our foodservice offering. Neil brings an innate understanding of all things food in the Australian market and an unquestionable instinct for pleasing the Australian palate. He has proven success in delivering foodservice in a range of formats and we look forward to working with somebody of Neil's passion and experience in this partnership."
The initial focus will concentrate on the development and planning of new concepts, supply chain, training and foodservice infrastructure. In the coming months, customers can expect to see some early improvements and additions to in-store dining and eateries, and the David Jones convenience offering, in both the Market and Bourke streets Foodhalls.