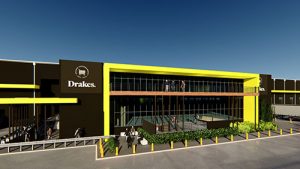 Supermarket giant Drakes Supermarkets has announced it plans to build a state-of-the-art $80 million distribution centre in South Australia, creating up to 550 jobs.
This news comes only a day after the independent grocery retailer advised Metcash Limited that it would not be making a commitment to have its supermarkets supplied from Metcash's proposed new distribution centre, also in South Australia.
The Drakes Distribution Centre, which has already received planning consent from the City of Playford, is fully funded by the family-owned business and will be located on a 17-hectare site at Edinburgh North.
"This is a major investment in the sustainable future of Drakes Supermarkets in South Australia. It's also a long-term investment and vote of confidence in our loyal customers and suppliers. It will be the most advanced independent distribution and logistics centre in the State and is a key plank of our group's vertical integration strategy within the supermarket sector," Drakes General Manager Bob Soang said.
Metcash, which currently has an agreement with Drakes to supply its SA stores through to June 2019, said it will assess the implications of losing Drakes as a major customer, and will consider this in its FY18 year-end review of the carrying value of its goodwill and other assets.
In a statement Metcash said, "The Supermarkets & Convenience pillar is expected to report a 1.2 per cent decline in total sales and a 3.6 per cent decline in wholesale sales excluding tobacco for the year ended April 30, 2018. FY18 earnings for Supermarkets & Convenience is expected to be in line with the prior financial year.
"It is not expected that the news from Drakes will have a material impact on the earnings of the Supermarkets & Convenience pillar in FY19."