Drakes Supermarkets is claimed to be the first Australian supermarket to trial sanitising system, Sanitizit.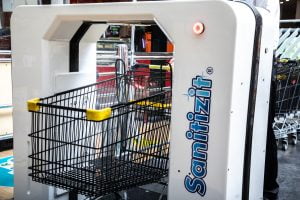 Developed in the US to sanitise shopping trolleys in retail, medical and airport environments, the product works by providing a "measured dose" of sanitising solution as a "mist blanket" that covers the entire trolley as it is passed through the unit.
SAGE Automation has partnered with the developer of the Sanitizit product to manufacture, supply and support the units in the Australian and New Zealand markets.
Drakes Director John-Paul Drake says the retailer has been working with SAGE Automation on the first Australian supermarket trial.
"Feedback from the team as well as our customers has been positive, and we will look at possibly rolling out into more of our stores," he says.
According to Drakes, the Sanitizit product's benefits include:
Operational efficiency for the retailer, replacing the manual process of wiping the trollies down by hand with a touchless system.
An adjustable dosage of sanitising solution for one trolley or a bank of trolleys being sanitised at a time.
Reduced waste by eliminating wipes being put into landfill.
Being able to sanitise the whole trolley, not just the handle.
A hand-held wand that enables the sanitising of shopping baskets from the main unit.
The unit using a water-based sanitising solution supplied by the unit operator.
The units being low voltage and using very little power.