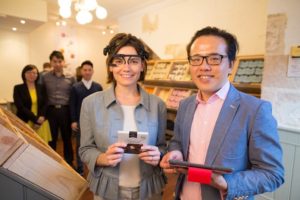 DuPont Sustainable Solutions has sponsored the inaugural DuPont Sustainable Solutions Innovation Award in collaboration with Curtin Business School at Curtin University in Perth.
Innovations were submitted by graduate students and faculties, and judged by senior administration and DuPont Sustainable Solutions executives. The winning entry – a headset that captures and measures consumer reaction to marketing content – was announced at an innovation breakfast held at The Art Gallery of Western Australia.
The headset captures and measures a consumer's facial expression, eye gaze, heart rate and brain function. The technology could change the way marketers advertise and retail outlets design and merchandise their stores. Traditionally, consumer reaction to marketing content is measured through methods such as focus groups or interviews in a controlled environment.
"It's a bit like a lie-detector test for the retail industry," marketing research team head Professor Ian Phau said. "Consumers can't cheat. By measuring and analysing an individual's physiological reactions, a retailer can understand how a consumer really feels."
The prize for the developers of the technology is a trip to the recently launched DuPont Innovation Hub in Singapore, which houses nearly 200 scientists, engineers and business leaders. Criteria for the award included the need to demonstrate ability to turn an idea into something valued through its application to academia, industry or the community.
"DuPont recognises the importance of collaboration to achieve true innovation that will address unmet needs," DuPont Sustainable Solutions Regional Director for Australia, New Zealand and Pacific Islands Rodney Nelson said. "We're privileged to support and partner with Curtin University, one of the top universities worldwide with a progressive approach and a strong research capability."