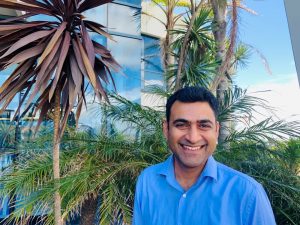 Best known for their flexibility, ease of use and precision, it is easy to see why electric cylinders are so in demand.
By SMC Corporation New Zealand Branch Manager in Auckland Shyam Suresh. 
Answering to the call for electric solutions is automation giant, SMC Corporation Australia New Zealand. Earlier this year, SMC announced the local assembly and stockholding of its latest range of electric cylinders, and more recently its series of AC servo motor drivers (network card type).
More and more, we are seeing a demand by OEM's and end users for increased flexibility.
Clients are looking for solutions that fit the demand of a wider range of products and product variations. Flexibility means they need to cater for more applications and types of products. These have a greater need for electric cylinders.
The company's investment into a large local stock contingent is a clear differentiator. While some are scaling back, SMC is investing in Australia and New Zealand.
In the past, our electric cylinders were configured with matching controllers and accessories via our team in Japan. By investing in local manufacturing, we have shortened the supply chain and made it easier and quicker for our customers to receive their orders. Customers can also enjoy more configuration flexibility.
Why electric cylinders?
Pick and place and materials handling applications (particularly sought after by the packaging industry), look to electric cylinders to get the job done.
Electric cylinders are used whenever there is a need for accurate and repetitive operations. The packaging, food processing, beverage filling and fruit sorting packhouses make use of electric cylinders.
In terms of demand by the packaging industry, we are seeing more opportunities in multi-axes systems involving two to three electric cylinders in a single gantry-style solution. Most in demand is our LEY and LEF series (both ball screw and belt drive).
Customers in the wood cutting industry are also exploring their options. However, this is still in the early stages of conception.
Electric vs pneumatic cylinders

When choosing the right cylinder for your application, they both have their pros and cons.
This is underpinned by a quote from Automation World: "The choice of pneumatic or electric cylinders involves an evaluation of performance, component costs, system costs, and productivity gains. The two technologies are so different that one cannot be a drop-in replacement for the other. Each has inherent advantages and disadvantages."
If you're looking to upgrade existing machinery as a more flexible, accurate and scalable long-term solution, then electric cylinders could be for you.
Pneumatic cylinders are economical to deploy, but you need to invest in energy saving practices to reduce and monitor air leakages. However, it's important that you consult with a sales engineer to determine what's best for your application.
Selection of electric cylinders (as labelled).
About SMC

Founded 60 years ago, SMC operates in 83 countries, employing 19,000 people across the globe. It has an R&D engineering team of 1450 and an 8200-strong sales force, who are experts in their field and enjoy a close working relationship with SMC's customers.
To deliver automation solutions for its diverse customer base, SMC offers more than 12,000 basic products with over 700,000 variations.
SMC is the world's leading pneumatics provider and has been voted for three consecutive years as one of the most innovative global companies by leading business magazine Forbes and is listed in the FORBES Global 2000 as one of the world's largest public companies.
For more information, visit smcanz.com. For sales enquiries, contact AUsales@smcanz.com or NZsales@smcanz.com.