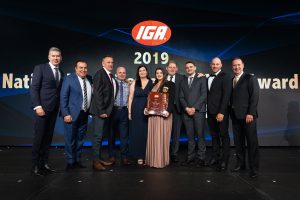 The prestigious annual IGA Awards of Excellence were held on the Gold Coast on July 15, 2019, celebrating leading IGA stores across Australia.
The awards recognise and celebrate not only the IGA stores that are an integral part of their local communities, but also the store teams who regularly go above and beyond to enhance the shopping experience.
These stores are said to set the benchmark for other IGA supermarkets across the retail network.
The award criteria included customer service, community pride, department excellence, brand values, sales, profits, merchandising and the store's overall performance.
Award winners
Fourteen outstanding stores were recognised at the awards, including:
IGA Xpress Store of the Year: Loveys IGA Xpress Hawks Nest
"[We] are really committed to raising the bar and are constantly striving to innovate and keep up to date in a fast-changing environment," said Loveys IGA Xpress Hawks Nest, co-owner, Peter Trappel.
IGA Store of the Year: Preston Street IGA
Renee Steenkamp, store manager and owners' daughter said: "We couldn't do what we do without our team … Our fantastic staff combined with our loyal customers and local suppliers help to make our store what it is today."
SUPA IGA Store of the Year and National Retailer of the Year: Fresh St. Market IGA
"We are passionate about supporting local producers, farmers and smaller companies," store owner, Michael Shakes said speaking of the win.
Award presentations 
Metcash CEO Supermarkets & Convenience, Scott Marshall and IGA National Retailer Council, Joseph Romeo, presented the awards.
"This year's winners reflect the strengths of the IGA network … [they] are a true testament to the vibrancy of the independent retail grocery industry," Mr Marshall said, congratulating the winners.
Retail World congratulates all of the winners:
IGA Delicatessen Department of the Year: Romeo's Food Hall IGA MLC Martin Place
SUPA IGA Delicatessen Department of the Year: Boccaccio SUPA IGA Balwyn
IGA Meat Department of the Year: IGA Baldivis
SUPA IGA Meat Department of the Year: Romeo's Food Hall IGA Summer Hill
IGA Bakery Department of the Year: Preston Street IGA
SUPA IGA Bakery Department of the Year: Ritchies SUPA IGA Dromana
IGA Fresh Produce Department of the Year: Preston Street IGA
SUPA IGA Fresh Produce Department of the Year: Fresh St. Market IGA
IGA Grocery & GM Department of the Year: IGA Baldivis
SUPA IGA Grocery & GM Department of the Year: Fresh St. Market IGA
IGA Dairy/Freezer Department of the Year: IGA Baldivis
SUPA IGA Dairy/Freezer Department of the Year: Ashcroft's SUPA IGA Erskine Park
IGA Customer Service & Experience Award: IGA Exmouth
IGA Xpress Small Format Innovation Award: Swanbourne Market IGA Xpress
Retail Transformation & Innovation Award: Brighton Foodland IGA
2019 Community Award: Penola IGA Fresh
Team Member/Rising Star Award: Kellie Johnstone, Mawhood's IGA Grenfell Plus Liquor
IGA Xpress Store of the Year: Lovey's IGA Xpress Hawks Nest
IGA Store of the Year: Preston Street IGA
SUPA IGA of the Year: Fresh St. Market IGA
IGA Hall of Fame – Leo and Elaine Ryan and Ron Corrigan and Rod Allen
National Retailer of the Year: Fresh St. Market IGA