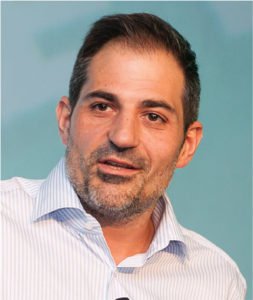 Frucor Suntory employs nearly 1,000 people across Australia and New Zealand, and has a portfolio of more than 30 brands, including V, Just Juice, Sparkling OH and OVI, and Maximus. Retail World spoke to Frucor Suntory Australia CEO Alexis Daems.
Frucor Beverages Australia recently changed its name to Frucor Suntory, eight years after joining the Suntory Group. Why now?
We've been owned by Suntory Group since 2009, but it's now more than that. Increasingly, we've become much more a part of Suntory,
so it was obvious we should combine the best of both companies. Their global scale and willingness to invest has given us opportunities to grow that we wouldn't have had otherwise.
How are Frucor Suntory and its brands performing in the Australian market?
The Australian beverages market is very developed and highly competitive with a few key players, but this is changing as innovation continues to grow. Frucor Suntory is very proud to have continued to grow faster than the market. The key drivers have been strength in our heartland energy portfolio and our rapid expansion of innovation, both in our new-to- market brands and line extensions catering for changing shopper needs.
What have been your proudest achievements in your first two years as CEO?
I'm very fortunate to work with such an amazing group of people who all have a real hunger for our business. So what I've enjoyed most has been the ability to empower our people to lead and have a personal impact on our business. Our success to date has been the result of the combined efforts of our teams. When I look forward, I hope I can inspire our teams so that we're the best place to work in Australia.
On what principles does Frucor Suntory operate?
Our values are at the heart of what we do. When I joined the business, I quickly learned just how important the values are to the people. We recently finished a project to build new values, which was not an easy thing to do, as the old values had been in place since 2002. We involved all employees in a collaborative process and we came out with three clear and powerful values: 'together', 'go for it' and 'make a difference'. The impact of keeping these principles at the heart of our business has empowered people to make decisions and move quickly to take advantage of opportunities.
What personal philosophies drive you in business?
Having a strong team is vital for the long-term success of any business. It's the people who make, sell and support our products, so we must look after them to engage them with the business. By working together as a team and listening to each other, we can make a difference.
What are retailers doing well and what areas can be improved on?
In a highly competitive retail market like Australia, I've been impressed by the ambition for innovation and trialling new concepts that bring new value to their customers. Those retailers I see being successful in this endeavour are those that are collaborating with suppliers to share a common ambition and plan. Going it alone hampers growth potential, as often objectives are in conflict rather than being built together.
How are Australian consumers' beverage choices changing, and how have Frucor Suntory brands evolved in response?
Australians are increasingly looking for more options, especially in beverages that have a functional benefit, are lower in sugar, or are more natural and authentic. Frucor Suntory has been at the forefront of innovation when it comes to developing beverages to meet changing consumer demand. In the past five years, we've launched a number of new brands across these needs, including Maximus and OVI Hydration.
What lies ahead in Frucor Suntory's future?
Growth! Frucor Suntory is committed to driving beverage growth into the foreseeable future. We have strong growth plans to increase our footprint, continue to expand our portfolio, and innovate in everything we do. Our purpose, 'Hungry to make drinks better', is not just a tagline. We're committed to making drinks taste better, be better for you, and better for the world around us. That's why we intend to increase our low- and no-sugar portfolio significantly over the next few years, so it equals our entire current business. We're innovating for targeted functionality, lower sugar and more sustainable packaging. We're fortunate to be able to work with Suntory on developing sweetness alternatives and expanding the range of sensory experiences beyond sugar. By 2030, one in three of our drinks sold will be low or no sugar.
Where do you see the grocery and P&C industries over the next few years?
Shoppers increasingly want convenience from all channels, not just traditional P&C. I believe we're set to experience exciting times across all key retail channels with the increase in competition combined with format innovation. I'm not sure the delineation between channels will be as clear as it is today. Australia has a wide breadth of great retailers who adapt very quickly to changing consumer behaviours, so I expect to see more trialling of new formats such as convenience-driven grocery offers, grab-and-go fresh-food options, and online.