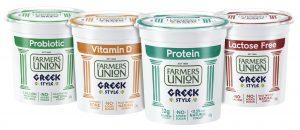 Farmers Union has developed a 'Plus' range to meet a range of consumer needs.
Whether consumers are looking to incorporate more protein or probiotics into their diet, want more vitamin D or are lactose intolerant, there's now a yogurt variation that caters to that need.
The range of Farmers Union Greek style natural yogurt comes in a 500g format, contains no added sugar and is available in the following four varieties:
Probiotic: contains 1 billion probiotics per serve.
Vitamin D: good for consumers wanting to support bone health.
Protein: includes 12g of protein per serve.
Lactose Free: great for those lactose intolerant.
"We're seeing an increasing number of shoppers seeking out food items that contain no added sugar, are higher in protein, cater for their food intolerances and support good gut health through probiotics," says Marketing & Innovation Director at Lion Dairy & Drinks, Darryn Wallace.
"Farmers Union Greek Style Yogurt has a loyal fan base and we're committed to evolving our product range to cater to their unique wellbeing needs."
Farmers Union Greek Style 'Plus' 500g range is available nationally at Woolworths.