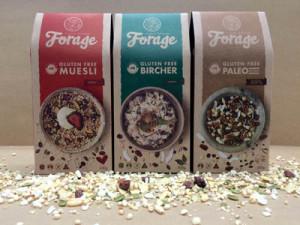 Forage is a healthy and tasty range of breakfast foods that have made a big mark on supermarket and health food shelves around Australia.
Developed three years ago by Australian Naturopath and Chiropractor Damian Kristof, Forage is a perfect balance of protein, good fats, natural fibre and carbohydrates that tastes as good as it looks. Using only premium quality ingredients, the Forage breakfast range includes raw and organic ingredients to create fuel the natural way.
The new Forage range features Forage Muesli, Forage Paleo, Forage Porridge and Forage Bircher, which have been a hit on grocery shelves and café tables alike.
"We want to encourage this approach and inspire people everywhere to have access to high-quality, great-tasting and affordable food – to get back to basics and give their bodies energy and vitality," Dr Kristof said.
"We've been overwhelmed with the response within the foodservice industry. Restaurant and café owners love the serving sizing and we're hearing how many customers are coming back for more on a regular basis."
All Forage products are gluten free, kosher and Australian made. Forage Muesli, Porridge and Bircher are also FODMAP approved.
[vc_gallery type="image_grid" images="5250,5251,5252,5253″]