Media Release
1 June, 2020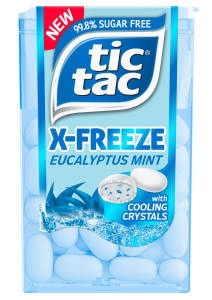 Ferrero has today marked the Australian launch of its latest innovation in the Tic Tac® range – Tic Tac® X-Freeze – an intense, long-lasting mint that is 99.8% sugar-free.
Emanuele Fiordalisi, Head of Brand for Tic Tac said, "The new Tic Tac X-Freeze range brings a refreshing offer to Ferrero's mint portfolio, delivering a great taste sensation in the mouth that is distinctly Tic Tac.
Tic Tac® X-Freeze is available in Eucalyptus Mint and Spearmint which, coupled with cooling crystals, provides more intense flavours while the bigger pill size adds long-lasting refreshment."
Tic Tac® X-Freeze is a permanent extension to the Australian Tic Tac® product range and the new product line will be supported by in-store sampling, displays and point of sale material, in addition to social media activity.
Source: Daylight Agency.