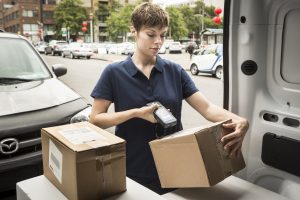 Fonterra New Zealand's distribution centre had been challenged though reception of a mix of orders needing consolidation at the same store or depot.
Problems in the system included that there was no way of easily knowing what had been delivered, when it had been delivered and what had been accepted.
The dairy co-op realised a better approach was required in terms of controls and standardisation.
Mobile milk partnership
Movilizer was selected as Fonterra's mobile platform to standardise operations.
A year before, the co-op had commissioned a new DC at Mangere in southern Auckland to service the country's North Island.
The SAP EWM (extended warehouse management) platform from German multinational SAP had been deployed as the warehouse management software, which included mobile integration of voice directed and radio frequency processes to help manage the storage and retrieval of chilled, frozen and ambient products.
Sydney-based supply chain execution company Icon Integration had been commissioned to provide delivery drivers with a proof-of-delivery mobile extension integrating directly with Fonterra's SAP ERP (enterprise resource planning) central component environment.
Fonterra Brands DC Network and Optimisation Manager Matt Kirdy says the dairy co-op chose Movilizer as its mobile platform because of its certified direct integration into SAP's back-end systems.
Challenges implementing Movilizer
According to Icon Integration Managing Director Paul Roddis, the change-management process was important to the company, especially as the delivery driver culture was being transformed along with the manner in which it completed deliveries.
"This had a large impact on the amount of improvement Movilizer could bring to the Fonterra business," he said.
He adds that the SAP ERP environment also requires an experienced delivery team and one that is knowledgeable in logistics processes.
"By delivering well, there were no significant challenges since implementation," he said. "Icon is very proud of the value it helped enable with the Fonterra team."
Return on investment
Through use of Movilizer, which created a return on initial investment within the first six months, Fonterra received a major reduction in stock credits in the first year.
"The beauty of Movilizer is that the design is built around leaving the data, business logic and transactions in SAP, so users and all the smarts are managed in SAP and not from a third-party application or at device level," Mr Roddis said.
"Any application changes or upgrades can be done from the back end without having to touch any of the devices. Additionally, it has off and online capability and works on any device and any operating system, making it a pretty simple and compelling way to extend SAP with any mobile application."
Out-of-the box SAP logistics
Fonterra's implementation of Movilizer enabled real-time, two-way connection to SAP, and because it is a SAP certified extension, the application is built in the SAP scripting language, making it easy for the dairy co-op to extend SAP ERP capability.
Fonterra is now able to scan in and confirm deliveries at a pallet level instead of order level, which means deliveries leave the DC scanned and accepted by the driver.
The pallets are consolidated correctly via EWM with ownership back on the driver to verify stock delivery.
Movilizer's health and safety checks have also provided increased fluency with the transport management team and safer working environments for drivers.
More visibility in dairy delivery
Fonterra's new proof of delivery application has provided better visibility of the entire delivery process.
Invoicing is triggered on proof of delivery after the customer has confirmed the stock order.
Mr Roddis underscores that the biggest benefit is the real-time proof of delivery and visibility, tracking deliveries directly in SAP and the removal of paper.
Happier customers
Movilizer gave Fonterra the foundation to implement an improved returns policy and made it easier for the customer to only be invoiced for what is verified at delivery. This has allowed Fonterra to investigate discrepancies in real time, with investigations taking place while stock is receipted back into the supply chain.
'Cost-effective, quick to implement'
Once the project was designed and delivered, the ongoing costs, according to Mr Roddis, were categorised as "Movilizer SaaS [software as a service] OPEX [operating expenditure] model".
This means it is a monthly investment per participant for the business, based on the number of users.
"This makes Movilizer extremely scalable and cost-effective for Fonterra, scaling up or down according to the staffing levels and seasonality of deliveries," he said.