From saving energy and reducing plastic waste to moving towards recyclable material, big changes are happening around sustainability within the food tech industry. Retail World spoke with a number of companies at Food Tech Queensland to get their take on the topic.
We also spoke with several companies to find out what technological development will have the biggest impact on how food gets from paddock to plate. The overwhelming response? Automation and Industry 4.0.
Where do you see the biggest changes happening around sustainability within food tech in the next 12-24 months?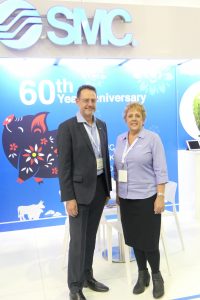 "I think probably one of the biggest areas for focus will certainly be energy saving – from a cost point of view but also from an environmental point of view. That's one area we're really focusing on with our product range and I think the more that we can work with the likes of OEMs [original equipment manufacturers] and also end users, [it] puts them in a better position so they can meet some of their targets and continue to be the successful industry that they still are in Australia. Let's make sure that continues into the future."
SMC Corporation Managing Director Wayne Driver
"I think a lot of it will be pushed around costs. If there's a benefit, long-term cost wise, I think they may push towards that [sustainability]. But I think the realties are, if it's going to be a cost to the business then there will be a push back."
Flowcrete Australia Managing Director Sean Tinsley
"The industry has a huge, I guess, campaign on cold storage – making sure we reduce energy cost. We play a massive part in the door – saving money from an energy point of view."
ASSA ABLOY Entrance Systems National Sales and Service Manager IDS John Boyle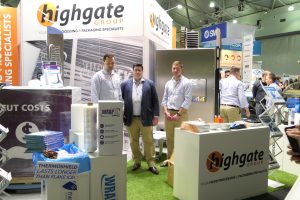 "Reducing plastic waste. That's where here at Highgate we've got the Wrapex Xtreme33 Stretch Film, which has 33 layers of film rather than five or seven, so we can actually reduce the amount of plastic you're using to wrap a pallet, by 30-40 per cent. You're reducing your cost, reducing the waste and obviously have that impact on the environment – a sustainability impact."
Highgate Group Managing Director Alister Joyce
"I guess the most important thing for all companies is to try to save power – electricity is a huge cost for all business. The good thing about ASSA ABLOY is that we have high-speed doors that control the environment. They also keep the heat in or the cold out. So, the great thing about our products is that we can save you money by just installing high-speed doors rather than old technology."
ASSA ABLOY Entrance Systems Country General Manager and Business Unit Manager Pedestrian Door Solutions Pacific Region Paul Mills
"It's a good question. I guess the biggest change for us is moving away from traditional materials, to materials that are 100 per cent recyclable and understanding what the requirement is from our customers to still maintain their product freshness – product safety in a new structure."
Sealed Air Australia Market Manager – Darfresh Australia and New Zealand Paul McGuire
What technological development do you think will have the biggest impact on how food gets from paddock to plate in the next five years?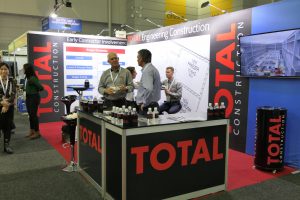 "Industry 4.0, automation … it'll be controlling your whole process line from materials in, to product out, in a more alive environment – so, [in] real time; you [won't] have to wait for weekly or monthly reports. That's where Industry 4.0 is going to come in – [an] increase in sensors, camera locations around a factory – actually on the conveyor line watching product, minimising waste and increasing outputs and efficiencies by 20 to 30 per cent. I think across the board they're going to have bigger storage requirements, dock requirements, more product moving out of the factory, making more money – automation doesn't mean lost jobs; automation means more efficiency."
Total Construction Business Development Manager Engineering Construction Group Rob Blythman
"Industry 4.0 – Industry 4.0 allows a transparency and visibility in terms of the full operation from start to finish. Not only maintenance but product quality [and] product packaging output. I think Industry 4.0 is going to grow legs pretty quickly."
SMC Corporation Head of Sales ANZ William Lebihan
"That's a really interesting question. There's actually lots of things that are going on, like Artificial Intelligence [AI], Blockchain and automation. I'm not going to pick one of those, I'm just going to say: what's more important is that organisations need to identify their products in the same language as other organisations to be able pick the winner, because there's going to be a winner out of some of those different technologies. It's going to be an either/or in some situations and so if you're identifying and using the same language to communicate with your trading partners it doesn't matter which one, we use. Consistency – speaking the same language."
GS1 Sales Manager Recall Services Andrew Brown
"Most definitely the biggest one would have to be packaging. We just acquired a company, Proseal – Proseal is a market leader in skin packaging, in tray sealing etc., predominantly in the food and vegetable industry currently. Reducing the amount of plastic material spent in packaging will be one of the biggest [moves]."
JBT Food Tech ANZ Protein Sales Manager Florian Hoehne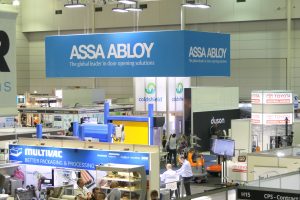 "I think the biggest thing that's happening in the food industry is convenience. So, speed plays a huge factor, being able to harvest your crops, get them through the processing plant fast, and in a way that there's no issues with hygiene or vermin getting into the product or spoiling the product. And the thing about ASSA ABLOY is that we have products that control climate – that control environment, heat, cold and they keep all these sorts of things out and makes things faster in the processing of food and beverages."
ASSA ABLOY Entrance Systems Country General Manager and Business Unit Manager Pedestrian Door Solutions Pacific Region Pauls Mills
"Full-line traceability from farm paddock all the way through to end-user. So I think there's a bit of movement going on at the moment in that space led by the retail groups from the packaging side, but I guess seeing that extension go further with technology tracing from farm level, so by the time the product hits packaging they know where it's been, the lifecycle of it so far and the ability for manufacturing to trace that all the way through to consumer level. There's a lot of development going on in the traceability space."
Matthews Australia Sales Engineer Nathan Elliott
"I think better packaging materials that are more environmentally friendly. So better recyclable materials that also create a better barrier, so things don't go off."
HMPS Owner Mark Emmett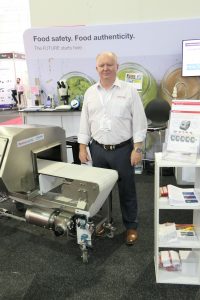 What are you doing to match the automation trend?
"We're creating new devices that perform better than traditional devices using modern technology and the ability to integrate the outputs of those devices straight into a Scada system or some other network system so the customer can grab that data off their computer-based monitoring system and see what's going on 24/7.
"We're standing in front of a Thermo Scientific Sentinel Multiscan Metal Detector and it's the first multi-frequency metal detector that runs off five frequencies simultaneously, which allows us to detect smaller and smaller contaminants in food."
Thermo Fisher Scientific Product Specialist Product Inspection Equipment David McKinnie