Foodstuffs South Island, New Zealand has reiterated a commitment to cultivating the co-op's relationship with supplier partners to ensure openness and transparency in all of its interactions, and a simpler, faster and smarter way of working together.
More than 300 suppliers, large and small, from right across the country, attended the Foodstuffs South Island Foodies Forum at Te Pae Christchurch Convention Centre.
The Foodies Forum provided an opportunity to generate a feeling of positivity and partnership among its key supplier partners, to get them energised for where the business heading and be a key part of the FSSI story.
"Our Foodstuffs South Island (FSSI) team openly shared pragmatic, honest information with suppliers about what we're doing to change our FSSI buying model, and provided confidence and reassurance about the journey we are on, reiterating that there was no catch or unexpected next steps coming their way. Our key supplier partners were provided with clarity and transparency on changes coming in the year ahead and what this means for them."
MC and Foodstuffs South Island Head of Retail Operations Ross Martin welcomed attendees and introduced the theme of the day – "we're on a journey."
"We have some really strong plans, some really awesome people, and a hell of a lot of work to do, and we're moving at pace," Mr Martin said.
"That does mean there's quite a bit of change going on in our business in a short period of time, which we know can be unsettling, but we're really committed to doing it well and staying focused on customer and business results throughout.
"It's an incredibly positive time to be part of the Foodies team and it's awesome that you're all here on the journey with us," he said.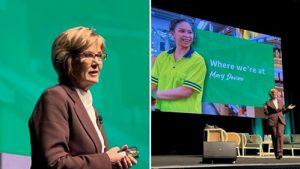 Eighteen months into the role, Foodstuffs South Island Chief Executive Officer Mary Devine said it's been a privilege to direct the co-op into a new phase and way of working.
"True partnership is about respect, transparency, openness and honesty, and this is something we're wanting to continue building with you," Ms Devine said.
"We want to make it simpler, faster and smarter to work with us, and this is something we're committed to delivering."
Ms Devine reiterated the co-op's purpose to feed the South Island and support communities, with a vision to be the South Island's most loved and trusted retailer, positively impacting its customers' lives every day.
The co-op's focus over the next few years is to win customer loyalty, grow its people and partnerships, lead and innovate, and focus on simplicity.
"While there had been challenges, the co-op remained committed to successfully navigating the obstacles that had come their way," she said.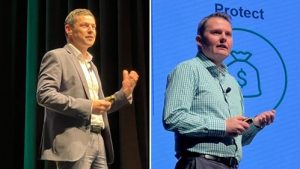 "I want to thank you all for your support while we've navigated a customer centric focus in the midst of a pandemic, supply shortages and rising prices," Ms Devine said.
"The talent and commitment of our people are integral to the success of our strategy, and will help us to deliver for customers, suppliers and our co-operative's members.
"We've achieved a lot in the past 18 months, and we'll continue to put our foot on the pedal."
Supplier partners came away with the assurance of a clear path forward with FSSI, and the opportunity to continue building on the strong, successful partnerships that have been established.