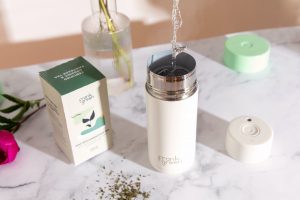 The people who presented us Sustainably ever after, are now launching their first beverage range.
Sustainable Sips will feature a range of certified organic, Fairtrade and ethically sourced loose-leaf teas and coffee.
The Immunity Tea is full of antioxidants, anti-inflammatories, lemongrass and ginger to help keep you fighting fit.
Flavours include Peppermint Tea, which includes calming properties to create a sense of ease; the Zen Black Tea is a full-bodied brew, and said to be perfect for a gentle wake up or quiet moment.
Roasted by world-renowned coffee experts in Melbourne, the frank green coffee is a bright arabica and robusta blend with a mix of nutty, chocolate, caramel and fruit notes.
A set to match
That's not all!
The French Press is tripled-walled and vacuum insulated, keeping coffee at the intended temperature for hours. The 'unbreakable' based ensures durability and the ceramic inner layer retains coffee flavouring.
The stainless-steel mesh plunger is purposefully engineered to deliver the perfect brew flavour.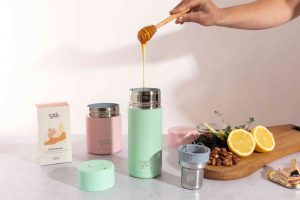 The Tea Infuser fits within all frank green ceramic reusable cups and bottles and reduces waste by eliminating the need for teabags.
Frank green's new Reusable Canister is airtight and leak-proof. It retains the original temperature of food – hot or cold – and has an unbreakable stainless-steel outer layer.
The range is PEFC-certified packaging, to keep with the sustainable theme of the ranges.
For more info, please visit frankgreen.com.au/sustainablecups.