Freddo is giving up his place on-pack to encourage Australians to find out more about endangered frogs.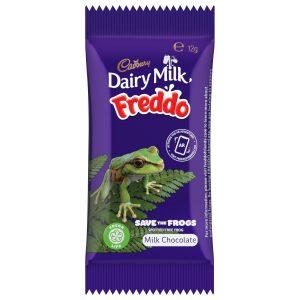 From this month, Cadbury Dairy Milk Freddo packs will feature critically endangered frogs including the Spotted Tree Frog and Southern Corrobboree Frog. This collaboration with Conservation Volunteers Australia and Zoos Victoria hopes to help educate Australians about endangered frog species.
Australia, according to the International Union for Conservation of Nature, is the fourth worst ranked country for animal extinctions. Australia also has a number of species of frogs on the brink of disappearing forever.
To help people learn more about these frogs, the specially marked packs feature an augmented reality symbol. This gives everyone the chance to view interactive videos and fact sheets about the frogs.
Beyond the pack
As well as the information campaign, Cadbury has announced its three-year, $600,000 commitment to support key project partners, Zoos Victoria and Conservation Volunteers Australia, to continue their important and ongoing efforts. This will include habitat restoration and animal protection projects, as well as the construction of a dedicated breeding bunker at Healesville Sanctuary.
This contribution is in addition to the $630,000 recently donated by Cadbury to Zoos Victoria, Taronga Zoo and Kangaroo island Wildlife Park in response to the bushfire crisis.