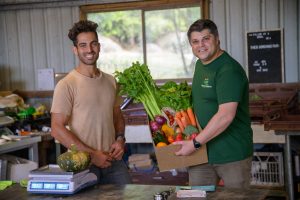 The new fresh grocery service, Farm2Market aims to bring local produce directly from the farm to homes across Queensland, New South Wales and Victoria.
The business founded by Jordan Pearce will also provide local farmers and food suppliers with an affordable way to market and sell their products to customers online.
"Farm2Market is all about empowering small businesses, the local farmers and vendors, who are the backbone of our country and in need of our support," Mr Pearce said.
"It is also ideal for time poor Australians who enjoy eating fresh, organic produce and value living more sustainably and reducing their environmental waste."
Behind the business
The idea began with Mr Pearce's own experience growing up on a farm. "It was the Australian dairy farm crisis a few years ago that was the major turning point for my family," he said.
"This struggle against the big supermarkets is what inspired the creation of Farm2Market, along with our passion for supplying Australian families with fresh organic products full of nutrients."
What's involved?
Produce that can be delivered to homes include seasonal fruit and vegetables, dairy, nuts and poultry.
Over 40 local businesses are on board already, including Freeman's Organic Farm in Currumbin Valley, Mirabrook Pork from Victoria, Australian Natural Food Co and many others.
The products can be purchased online and delivered direct to doorsteps, with delivery fees starting from $10.