Wrigley's gum brand Extra has unveiled a fresh, new look to help support in-store shopper navigation.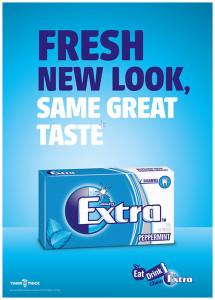 The global rebrand is part of a multimillion-dollar marketing campaign focused on bringing the "oral care credentials" of its flagship gum brand Extra to a global audience.
The new-look logo features a shield with a 'glint', reinforcing that chewing sugar-free Extra is a great way to help keep teeth clean and healthy after eating and drinking.
"Gum is one of the most impulsive categories in-store, therefore visibility is crucial to sales," Wrigley Marketing Director Tami Cunningham said. "Our new global visual identity will strengthen this, allowing shoppers to identify their favourite products immediately."
To introduce the new look, Extra has signed on as a major sponsor of Network Ten's The Bachelor Australia series. The brand says it believes that being at your best gives you the confidence to take advantage of whatever opportunities come your way, and that this philosophy is a great fit with The Bachelor Australia.
"We're confident that the sponsorship will enable us to talk to consumers in a fun and engaging way, demonstrating how Extra can boost your confidence to impress and express yourself in those critical dating occasions, and help you smile throughout the day," Ms Cunningham said.
To further amplify visibility and unlock new display opportunities in-store, the rollout will be supported with a TV campaign featuring actor Ashton Kutcher, as well as secondary media activity, including outdoor, mobile, digital, social and path-to-purchase shopalites and in-store activations.