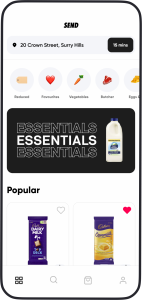 Australian online, delivery-only supermarket SEND is providing Aussie customers with more shopping opportunities.
Users are able to browse and select goods via the SEND app, and according to the team, it's with a guarantee delivery in fifteen minutes or under.
"SEND is redefining the way an entire generation shops for groceries and daily essentials, making it possible to get the things you need delivered in under 15 minutes. We're super excited to begin servicing pretty much all the suburbs in and around Sydney and Melbourne CBD," says Founder of SEND, Rob Adams.
The new app is reminiscent of consumers' need for speed, injecting countless hours back into the day by completing one household chore quickly.
During the first wave of Covid-19 in Australia, Mr Adams was inspired by his grandmother, who is part of the more vulnerable members of the community.
Touching on other grocery-delivery services, Mr Adams says: "Australian supermarket giants promote the idea of a big weekly shop; however, consumers don't have time to curate long lists of groceries and spend hours shopping.
"SEND addresses this gap in the market by making it possible to get what you need when it comes to mind, removing the element of planning ahead."
The business says to start expecting designated 'SEND Shops' cropping up across the nation in early August 2021.
They will start in Potts Point, Alexandria and Camperdown, Sydney and Southbank, Melbourne, with the SEND team aiming to establish thirty locations by the turn of the new year.
Visit sendapp.com.au for more info.