General Mills has announced the appointment of Matthew Salter as its new Managing Director for Australia and New Zealand.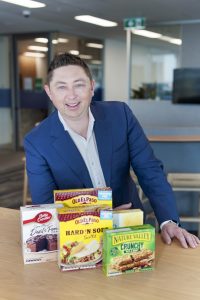 After six years playing lead roles for General Mills based in Europe, Mr Salter has returned to Australia bringing over 25 years' experience in the food industry. Mr Salter's return to General Mills Australia and New Zealand comes with opportunities to continue on a pathway to scale, building on the positive trajectory of growth.
"As we pivot from the pandemic in a position of strength, I am committed to maintaining momentum in Australia and New Zealand. We are fortunate that our product offerings are all in growth facing categories, like on trend Mexican meal centres, family favourite fresh pasta, snacking, baking and premium ice cream," Mr Salter said.
"Working alongside my colleagues, I am eager to build on this, by exploring new solutions to real consumer problems in our product categories. I have an appetite for experimentation and for trying new approaches to learn in order to continue to reinforce the purpose of our brands."
Mr Salter is excited to invest in promoting a culture of diversity and belonging, adopting a learning mindset and immersing himself in the Australian and New Zealand market.
"I'm looking forward to spending time getting to know the people behind the business in Melbourne, Western Sydney and Auckland, New Zealand to better understand how the business works."
He will also play a lead role in continuing the business' ethos of being a "force for good" and defining what this means for food brands in 2021 across the value chain.
"After significant external challenges in 2020 for our community, as a business, we have not only an opportunity but a responsibility to redefine what being a 'force for good' means in 2021," Mr Salter said.
"For me, being a 'force for good' means treating our people and our planet with care. General Mills will continue to be a force for good in regeneration, working to improve food security and always valuing inclusion and diversity to strengthen our community. Through our strong partnerships with Foodbank Australia and Landcare Australia, we will continue to harness the power of food for good."