Have no fear, festive season is here!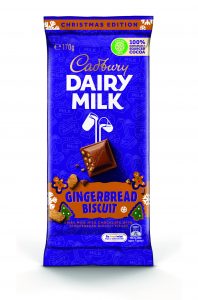 It seems that Cadbury Dairy Milk Gingerbread Biscuit block is here too.
The new limited-edition product celebrates the much-loved flavours of Christmas in one chocolate block.
The seasonally inspired chocolate is made from Cadbury Dairy Milk milk chocolate, laced with crunchy Gingerbread biscuit pieces.
"After the unprecedented year Australians have experienced in 2020, we wanted to bring some Christmas cheer to Cadbury fans with the introduction of a nostalgic Christmas-centric treat," says Senior Marketing Manager for Seasonal & Gifting, Kathy De Lullo.
The 170g Cadbury Dairy Milk Gingerbread Biscuit Chocolate block RRP's at $5.00 and is available nationwide in all participating retailers.
For further information, visit facebook.com/CadburyDairyMilkAustralia or Cadbury's Instagram @cadburyaust.