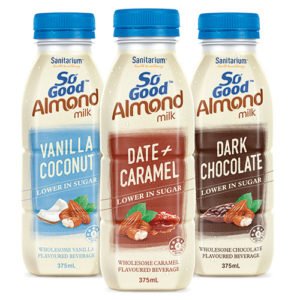 Sanitarium says it is set to make its newest range of So Good almond milks more accessible to the Australian public by introducing three new flavours of chilled, ready-to-drink bottles across the country.
With sales growth of 26 per cent ($65.7 million) in 2016, almond milks have received widespread acceptance from consumers.
"As the market leader for this segment in the grocery channel, and with one-third of new buyers entering the category through the So Good brand, we see a great opportunity to introduce our products to the petrol and convenience channel and provide something new to shoppers to meet their changing needs," So Good Senior Brand Manager Emma Seberry said.
This new range is said to mix the traditional taste of flavoured milks with "healthy" ingredients including almonds, dates, coconut cream and cocoa, while making it 30-40 per cent lower in sugar than regular flavoured milk.
Traditionally, according to So Good, flavoured-milk sales have been to predominantly male consumers due to negative perceptions around the product's  high calorie and sugar content, but So Good Almond Milk is dairy, lactose and gluten free while still giving the added benefits of calcium and vitamin E.
"Consumers currently see a massive trade-off between something healthy and something full of flavour, but it doesn't have to be that way," Ms Seberry said.
The new Dark Chocolate option is promoted as containing no artificial colours or flavours, low saturated-fat and sodium levels and more than half the recommended daily calcium intake in each 375ml bottle. A further breakdown in macros shows 3g of protein, 19g of carbohydrates and 6g of fat (from "predominantly healthy" monounsaturated fats).
"This will be our biggest launch for the So Good brand in 2017," Ms Seberry said. "We will be delivering an unprecedented campaign to ensure our trade partners have the best support possible as we go into the convenience channel."
The new bottles have a Health Star Rating of 4 and come in Dark Chocolate, Vanilla Coconut, and Date Caramel flavours (RRP: $4.49 for a 375ml bottle).