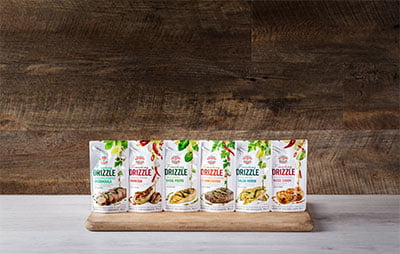 Designed for busy home cooks seeking healthier, fresher condiment options to enhance grilled meat, Gourmet Garden Finishing Drizzles draw on traditional recipes from around the world.
Packed with flavoursome Queensland-grown herbs, spices and extra virgin olive oil, the range is gluten free, cold blended for fresher flavour and contains no artificial preservatives, flavours and colours.
Gourmet Garden Head of Innovation Jacqui Wilson-Smith says the range was developed in response to a consumer 'pain-point' around how they currently flavour grilled meat.
"During the eight years spent developing this range, we noticed a reinvigoration of home cooking – home cooks are now seeking inspiration to add to their repertoire and enjoy using herbs and spices to inject interesting, healthy flavours to their meals," Ms Wilson-Smith said.
"However, when it came to preparing a new flavour to complement grilled meat, we found that people were time poor and often reverted to packaged sauces like tomato sauce, BBQ sauce and gravy."
Speaking with consumers and working in collaboration with partners including Coles, Meat & Livestock Association, Baiada Poultry and Pork Australia, Gourmet Garden discovered a gap in the market for healthier, fresher sauce accompaniments that are easy to find in the supermarket.
"The Finishing Drizzles are conveniently positioned in the chilled meat aisle where many consumers make their decisions about what to cook for their everyday meals," Ms Wilson-Smith said. "We want to give busy cooks inspiration to create meals that are enticing in both taste and appearance."
Gourmet Garden's Finishing Drizzles pour pouches (RRP $3) serve two to three people. The range comprises Spanish-inspired Salsa Verde, Moroccan-inspired Harissa, Italian-inspired Basil Pesto, Vietnamese-inspired Nuoc Cham, South American-inspired Chimichurri and North African-inspired Chermoula.