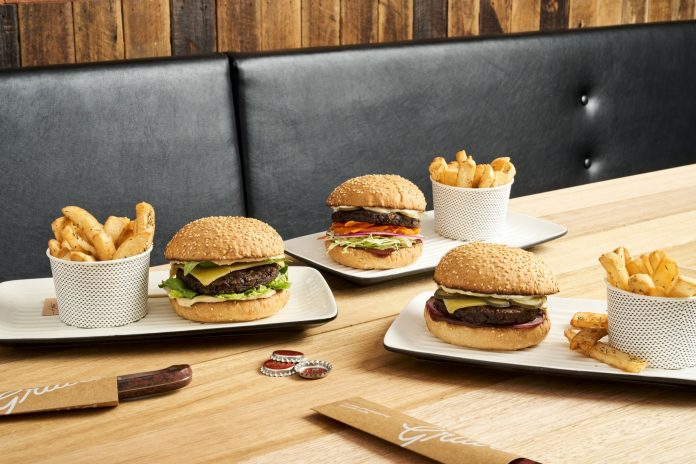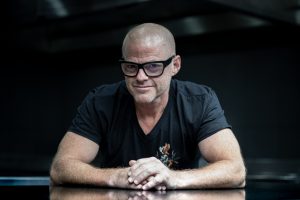 Australia's "healthy" burger brand Grill'd has announced its new partnership with Heston Blumenthal's "favourite" mushroom-based meat, Fable, with Heston himself creating the limited edition 'Heston Fable Burger' exclusive to Grill'd. The plant-based Fable Burger includes four new varieties on the menu.
Michelin star chef Heston Blumenthal said: "I never thought I would allow another restaurant to serve one of my very special burgers until I met the amazing team at Grill'd. All four Fable burgers are fantastic, but the Heston Fable Burger is the star of the show. The Fable pattie has a rich, satisfying mushroom flavour that tastes just like slow cooked meat, complemented by the pluminess and spiciness of hoisin sauce, fresh texture of Japanese slaw and lightly grilled tofu. It has all of the umami, all of the satisfying things that you would expect from a burger but there's no meat in it. Mouth-watering, 100% natural, satisfying and just delicious."
For the new Fable range, Heston has created a flavourful Fable Spicy Cheeseburger available on the menu nationally and a limited edition off-menu Heston Fable Burger available at select restaurants.
"Inspired by Peking duck pancakes, the limited-edition burger is an evolution of what's on the menu at the celebrity chef's very own restaurant, The Perfectionists' Café in London, and will be the first time one of Heston Blumenthal's burgers will be served outside his restaurants," says Fable.
Limited to only 4000 burgers available across Australia, bookings to experience the 'Heston Fable Burger' at select Grill'd restaurants are essential and will be released via grilld.com.au/heston with sittings to commence from 8-22 August. Residents in lockdown in NSW can also register their interest online to enjoy the Heston Fable Burger experience when dine-in restrictions are eased.
"The 'Heston Fable Burger' will be served with Heston's signature gastronomic flair, delivered to the table under a smoke-filled cloche with silver service touches," Fable said.
For $35 per person, the limited-edition burger is served alongside Grill'd Famous Chips with a touch of white miso mayo and a choice of premium wine pairing (Montalto Pennon Hill Pinot Noir Wines or Merritt Chenin Blanc), local beer, or non-alcoholic beverage.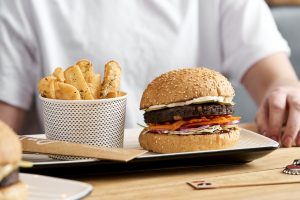 Grill'd founder Simon Crowe says: "We're thrilled to be bringing the Heston Fable Burger to Grill'd. In partnering with Fable, we've had the opportunity to work with Heston Blumenthal, one of the world's finest chefs, and expand our plant-based menu with four new Fable meaty mushroom burgers that taste just as good as the real thing. It's the next step in our mission to discover a whole new world of flavour and challenge the status quo with innovative, healthy and mindfully made products."
Fable Spicy Cheeseburger by Heston plus two other Fable burgers will be available via dine-in, takeaway and delivery across Australia. The menu includes:
Fable Spicy Cheeseburger by Heston Blumenthal – Plant-based, meaty mushroom Fable pattie with aged cheddar, Spanish onion, Dijon mustard, dill pickles, egg mayo and Heston's fire roasted spicy tomato sauce ($14.50)
Fable Truffle – Plant-based, meaty mushroom Fable pattie with aged cheddar, cos lettuce, fresh basil and truffle mayo ($14.50)
Fable Southern BBQ – Plant-based, meaty mushroom Fable pattie with cabbage slaw, shredded carrot, Spanish onion, egg mayo, dill pickles and native Davidson plum barbeque sauce ($14.50)
Available only at the following Grill'd restaurants from 8-22 August: Windsor, Victoria; Hawthorn, Victoria; Wintergarden, Queensland; Carindale, Queensland; Scarborough, WA:
The Heston Fable Burger (bookings essential) – Plant-based, meaty mushroom Fable pattie with tofu, cucumber, fresh slaw, hoisin sauce, topped with crispy Fable "beef", served on a buttery brioche bun ($35).
"Grill'd and Fable share a love for fresh, quality and sustainably sourced ingredients and all four new Fable burgers are made with 100% natural ingredients with no artificial colours, flavours, or preservatives," Fable said.
Fable's "all natural," plant-based meaty mushroom burger patties are made from real shiitake mushrooms and offer a whole new world of delicious, meaty texture and umami flavour.
"Grill'd continues to provide its guests with innovative, healthy and mindfully made products that challenge the status quo. Fable's meaty mushrooms are the next generation in plant-based meat, made from real and nutritious ingredients without sacrificing flavour."