World Standards Day was held on 14 October. This year's theme 'Shared Vision for a Better World' highlights the need for standards to ensure GS1's global Sustainable Development Goals are achieved.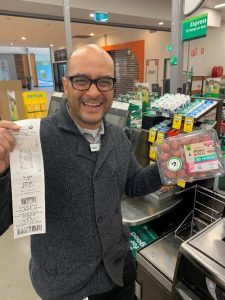 GS1 standards enable supply chain visibility, which in turn, allows greater sustainability.
"At GS1 Australia, we bring supply chain partners together to collaborate. The success of our standards starts with the remarkable people who provide their time, passion and expertise to drive transformation within industry," the company said in a statement.
Celebrating World Standards Day, the GS1 Australia Standards in Action award recognises an individual who:
Actively promotes the development and use of GS1 standards within their organisation and industry
Is an agent of change, influencing the adoption of GS1 standards
Displays outstanding supply chain innovation, vision and leadership
Leads and supports the global community in the adoption of GS1 standards
Contributes to the GS1 standards development process
Openly shares learnings and challenges with others in their GS1 standards implementation journey.
Woolworths Senior Project Manager Roberto Olivares was announced as the winner of the 2021 award.
Mr Olivares was instrumental in implementing GS1 Databar and GS1 DataMatrix across 1400 Woolworths and Countdown stores on 2500 lines from over 4000 suppliers.
"Roberto and the Woolworths project team undertook trailblazing work to introduce 2Dbarcodes for retail point-of-sale," states GS1 Australia Director Retail Andrew Steele.
2DBarcodes are the content-rich, on-pack symbols that enable multiple data elements to be embedded and made available when scanned at point-of-sale. These barcodes enable the ability to automatically stop the sale of expired or recalled products at the checkout and allow better management of rotation of goods through stores and significantly reduce food waste.
"At Woolworths we plan to build on the potential of these barcodes to offer customers valuable information on provenance, quality and sustainability. As we work towards a better tomorrow with our suppliers, 2DBarcodes can help us communicate a product's verified sustainability credentials to customers," states Mr Olivares.
Mr Olivares said he was grateful for this formal acknowledgement of his work but called out that this was a team achievement, which he is happy to represent. Likening it to football, "it's the team that wins the game, not the individual."