Refuel on the go with Table of Plenty's Rice Thins, a "healthy" filling snack for busy lifestyles.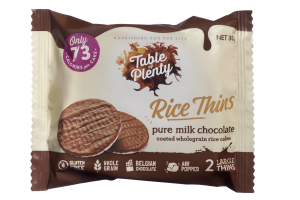 Available in packs of two cakes, the Rice Thins range comprises four flavours: Dark Chocolate and Coconut (vegan), Passionfruit Yoghurt, Salted Caramel and Belgian Milk Chocolate. Rice Thins are not only tasty, they contain just "75 calories a cake."
Table of Plenty founder Kate Weiss says the Rice Thins are a new larger size rice cake option coated with the same "delicious pure chocolate" and a great addition to the range. And, like all Table of Plenty products, the Rice Thins were born from Ms Weiss' passion for helping Australians enjoy a more balanced lifestyle.
"I created the Rice Thins to make an easy on the go snack for people with a busy lifestyle looking for better options. You can have your cake and eat it too" Ms Weiss said.
Snacking with no boundaries between meals can throw people's diets out of balance.
"Table of Plenty's Rice Thins are crunchy and light, with a hint of indulgence to help you get over the 3pm slump. They are naturally popped – not fried – and made using wholegrain rice and pure chocolate/yoghurt coating made with cocoa butter.
"The Rice Thins are portion controlled, gluten free, palm oil free and GMO free, so you don't have to worry about hidden nasties. They are perfect to keep in your car or to pop in your kids' lunchboxes. The larger size will keep your older kids and teenagers satisfied."
Table of Plenty's Rice Thins range is now available from the biscuit aisle at Coles with a RRP of $1.95.