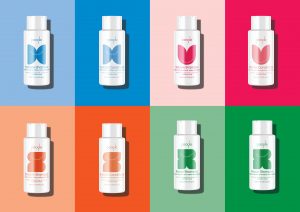 People Haircare is a new premium haircare range featuring nine products to suit all hair types.
Each product is Australian made, owned, and manufactured in Melbourne. The vegan range is also said to be plant-based, cruelty-free, paraben-free, soap-free, SLES and ALS free, Grey-water safe, and feature 100% recyclable packaging.
Founded by self-proclaimed "hair fanatics" Matt John and Katherine Ruiz, Directors at branding studio Anatomy Studios, People Haircare aims to fill a gap in the market.
"I was not inspired by what was on offer on the supermarket shelf and I saw an opportunity to bring beautifully designed, high performing products to the supermarket shelves at an affordable price point," says Ms Ruiz.
With People, adds Mr John, "the packaging is as considered as the formulas, with every element designed with the intention to stand out on the shelves, feel fun and playful, and appeal to both men and women. It looks as good on the shelf as it does in your bathroom."
The range comprises:
People Volume Shampoo and Conditioner
People Hydrate Shampoo and Conditioner
People Smooth Shampoo and Conditioner
People Repair Shampoo and Conditioner
People Hair Treatment Mask
People Haircare launched in Coles stores nationwide this month and retails for $16 per product. For more information, visit www.peoplehaircare.co.