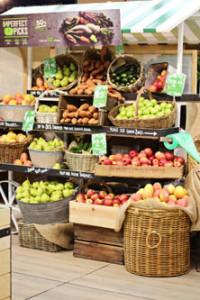 Family-owned business Harris Farm Markets has opened an impressive new flagship store in Sydney's inner-west suburb of Drummoyne.
It's the biggest store that Harris Farm Markets has opened in its 44-year history and takes inspiration from its successful sister store in Bowral with its artisan market style.
Shoppers can find everything they need and more in the Drummoyne store, which has a deli, coffee and sandwich bar by Salt Meats Cheese, a cheese and entertaining cave, a large floral section, a seafood section by Sydney Fresh Seafood, and boutique premium butcher Hudson Meats.
The store is the first Harris Farm to offer a boutique wine and craft beer section, so it really is a one-stop shop for customers.
Harris Farm Markets co-CEO Tristan Harris says the latest store is a continuation of Harris Farm's goal to provide all inner-city residents with grocery stores that have an authentic village feeling.
"We know that authentic shopping experiences are extremely important for our customers and we wanted to keep that down-to-earth feeling in our stores that we've always been famous for," he said.
"Expanding our offering while staying true to our roots is our goal, so we're proud of our new flagship as that's what we've achieved."
The Drummoyne store is the second Harris Farm store in the inner-west and will ensure local residents have a convenient option to buy the best quality fruit, vegetables, grocery items and artisan goods in conjunction with the Broadway store.
For those on the run, there is a 'good to go' section with ready-made meals, juices, yoghurts and pre-prepared chopped fruit and vegies, making it easy to duck in and grab a healthy snack.
The store will have up to 60 undercover parking spaces beneath the building available for 90 minutes.
[vc_gallery type="image_grid" images="4855,4853,4852,4851,4850″]