Harris Farm Markets has today announced the launch of Re-purposeful Picks, a product range made from upcycling perishable food items into premium quality products with longer shelf life. The upcycled food range seeks to combat Australia's growing $36 billion food waste problem.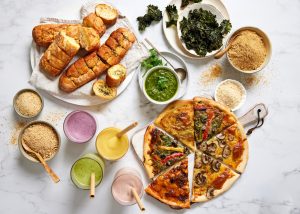 Harris Farm Markets is the "first Australian major grocery retailer to release a product range of this nature," coupled with an ongoing program to consistently build reuse solutions to prevent food waste.
"Costing the Australian economy more than $36 billion each year, 7.6 million tonnes of food is wasted annually with 70% of this being edible food," says the retailer. "The retail sector contributes more than 500,000 tonnes to this total, according to the 2021 National Food Waste Baseline."
Harris Farm has been a pioneer in the retail space for sustainable initiatives, being the first chain store retailer to ban the plastic bag at the beginning of 2018 as well as the first to challenge established food perceptions on fruit and vegetable with its Imperfect Picks range in 2014. To date, Harris Farm has invested more than $16 million into its sustainability initiatives, which have collectively eliminated over 31,000 tonnes of food waste.
"Harris Farm has listened to the concerns of its customers about food waste in stores, and for more than a year we have been working on a way to make a meaningful impact without compromising our daily offering to customers. The Re-purposeful Picks range was created as a way for Harris Farm to take action at a store level to combat climate change, empowering each branch to reduce its daily food waste," says Harris Farm Markets co-CEO Tristan Harris.
Re-purposeful Picks marks Harris Farm's fourth initiative to reduce its food waste, following the launch of Soilbiotic in February 2021, Curious Cuts in 2015, and Imperfect Picks. Food waste such as orange peel is also upcycled as food for livestock at the Harris' family farm.
"Harris Farm Markets has made a long term commitment to sustainability across all aspects of our business and a big part of this is being innovative in our approach as a retailer especially when it comes to food waste," says Mr Harris.
Beginning with over 30 products, the Re-purposeful Picks range will extend the shelf life of items that would have otherwise been thrown away by up to two months. This includes upcycling fruit into smoothies, bread into breadcrumbs and vegetables on delicious pizzas.
As food waste differs from store to store based on the daily shopping lists and consumption of customers, Harris Farm Markets has equipped each store with the facilities to repurpose its food waste in-house to create this new range of upcycled products.
"Through this new initiative, we will end up with less products on shelves that are nearing their expiry dates as items will be rotated sooner to create the Re-purposeful Picks range. This means overall, we are creating longer life cycles to minimise food wastage across all 25 of our stores," says Mr Harris.
The National Food Waste Baseline modelling has shown that industry-led change could lead to food wastage in Australia being cut in half over the next 10 years with a 50 per cent reduction target for retailers set for 2026, according to the retailer.
All products are available in store only.