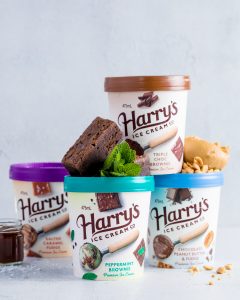 Like avocado on toast, and butter with vegemite, peanut butter really compliments chocolate when paired together.
Harry's Ice Cream Co is so aware of this that they are launching not only the new Chocolate Peanut Butter & Fudge ice cream, but releasing new packaging to go along with it.
The new packaging was created by the team at 68 Degrees.
"Harry's Ice Cream is a well-loved Aussie brand that promotes great flavours and indulgent quality, so we wanted to stay to true to that," says Creative Director, Sebastian Giaccotto.
"The new tubs are super bright and colourful and designed to profile the delicious flavours and ingredients of the product. It's been a great process working with the Harry's team on these new designs and we can't wait to see them in-store."
Other flavours still in the Harry's Ice Cream Co family include, Triple Choc Brownie, Salted Caramel Fudge and Peppermint Brownie.
Harry & Larry's Owner, Lawrence Harris explains, "Our Harry's fans told us that they love our chocolate-based flavours, so we added creamy chocolate ice cream to our popular peanut butter fudge to create a brand new product in our indulgent range.
"Plus, we've now moved to bright new tubs which will really stand out in the supermarket.
"As we head into Summer, we want everyone to enjoy Harry's Ice Cream, and now more than ever , it's important that we continue to support Australian dairy farmers and produce our quality indulgent ice cream locally, supporting Aussie jobs."
Harry's Ice Cream Co products are available at Woolworths and selected IGA and Foodland Stores.